Career
Working with us
We have 200 employees in our Headquarters, each in diverse roles in our various business units.
Some of them have a story to share on their experiences in Global Airfreight International:
"Recently our department emphasizes the importance of buddy system and I find it useful. It helps me as a new comer to know that someone will be taking care of my duties when I am not around." –Christin Lim, RBD
"Building a stronger rapport in-between the departments can ultimately increase efficiency through teamwork.Communication has, is, and will forever be something that affects efficiency and productivity [in] an organisation.The lessons and competencies learnt from the import department have helped me understand the process of the industry. Not forgetting that every department has their own issues, I have also learnt that through teamwork, there will be no adversity that is too tough, and no mountain that is too high." – Barry Ho, Sales BD
"I will be looking forward to learning more about the different company operations with experienced and knowledgeable colleagues in Global Airfreight International. The culture here is very pleasant and warm, and with such understanding leaders in the company whom consistently seeks to promote self-upgrading and 2 way communications among its employees." – Lee Wei Lun, Corporate Account
In alignment with the Global Vision & Mission, the company believes
To break existing boundaries.
To exceed expectations at every opportunity.
To constantly add value.
To be different.
To pursue excellence.
To set high standards
Some stories to share!
To encourage lifelong learning and upgrading, some of our employees have attended training courses conducted by our employees internally!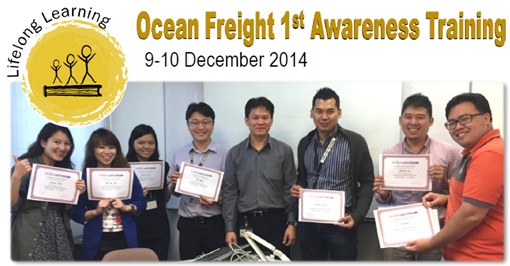 The two-day internal training course helps to equip participants with an insight on sea freight forwarding operations. Providing them with a good understanding on procedures for handling export and import shipments, documents involved in shipping, the concept of containerization and conference systems as well as importance of job costing in sea freight forwarding operations. It also gave an update on the latest developments in the sea transport sector.
"Internal Awareness Training sessions were precious opportunities for me to enhance my knowledge in the freight industry. Instructors were all professional and did their best to share their work experiences. I will be looking forward to learn more about the different company operations with experienced and knowledgeable colleagues in the company. The culture in Global Airfreight International is very pleasant and warm, and with such understanding leaders in the company whom consistently seek to promote self-upgrading and 2 way communication among its employees"
–Lee Wei Lun (CorpAcct–In-plant)
In Global Airfreight International, we also recognize the acts of excellence and kindness provided by our people. We reward whenever they go above and beyond what is expected.
Some of the incentives we have includes:
Customer Delight Incentive

Examinable Course Incentive

Work Improvement Scheme Incentive
And in order for our employee's voices to be heard, we also established 'Thinking Report' whereby employees submit their suggestions/ thoughts/ feedback. From individual ideas and opinions to ways of improving work processes are taken in by the management positively in order to help the company continuously improve and move forward as one. On top of that, incentives are given as a reward to our employees! 
Benefits
At Global Airfreight International, we believe our people are our assets. We continuously work to improve better working environment and benefits for our people.
Our attractive employee benefits through career progression, training and development opportunities as well as competitive remuneration as employees are valued for their contributions and recognised for their good performance. 
"Our Careers Opportunities, Be Part of Us!"
Officer - Import/Export Operation
Job Description
Liaising with customers through the phone and email
Ensure accuracy & compliance of required import/export documents
Ascertain prompt & accurate date in documents processing
Execution of AWB, and distribution of shipping documents
Requirement
Candidate must possess at least a Primary/Secondary School/ "O" Level, Professional Certificate/ NITEC, Diploma, Advanced/ Higher/ Graduate Diploma, any field.
Candidates must be proficient in Microsoft Office
Candidates with relevant experience will be considered for a higher position
Candidates with experience in customer service and/or operations will have an added advantage.
​Permanent Part-Time Admin Assistant
Job Description
Sorting
Filing
Data Entry
Ad Hoc duties may be assigned when required
Requirements
Minimum O'Level and above.
Minimum 1 year of experience in adminstrative duties.
Must be proficient in Microsoft Office (Word, Excel etc.).
Able to commit half day work time from Monday to Fridays.
Kindly note that this is a Permanent Part-Time position
Management Trainee
Job Description
To provide full administrative support to the Management Team (including setting up work processes; collating & analysing statistics, attending to emails, etc)
To liaise/ interact on behalf of the Management Team with internal departments, regional offices or overseas agents on special projects; or outstanding matters
To support the Management Team in the handling of projects such as Aviation, Oil & Gas, Sales Leads projects etc.
To assist in any other administrative assignments/ to undertake projects assigned by the Management from time to time
Requirements:
Minimum Diploma/ Degree holder
Entry level candidates are welcome to apply
Must like to do figures/ good at statistics
Must be willing to undertake projects
Pleasant personality and able to speak & write well
Knowledge in MS Office (Word, Excel, Powerpoint) / Must be computer literate
Candidates with 1-2 years of experience/ relevant working experience will have an added advantage
Must be prepare to work shift for first 06 months ( in the event of training)
HR Admin Assistant
Job Description
Assist HR with staff leave process, overtime claims, and reimbursement.
Preparation of basic contracts, payroll submissions.
Support CEO Office administrative duties such as filing, meeting arrangements, and record minutes of meetings
Manage office supplies
Any other ad-hoc duties as assigned by the management
Requirements:
Minimum Diploma Level and above
HR Generalist/PA prior working experience preferred
Good interpersonal and communication and written skills
Proficient in MS Office Applications
Commence work immediately
 
Note: listing accurate as at 16 Sep 2015.
Kindly note all CV should be directed to careers@globalair.com.sg
Career Programs
Students – Internship Program
Global Airfreight International offers internship programmes to gear students up for the real world, where students will be immersed in the fast-paced working environment and exposed to numerous learning opportunities!
Interested applicants, please write-in with your resume for your internship application to careers@globalair.com.sg
Graduates – Management Trainee Programme
Management Trainees are given an opportunity with Competency Training Program designed to aid fresh graduates at workplace adaptability and on-the-job skills knowledge across different Business Units.
With hands-on learning and insights to the company, Management Trainees would understand and experience various job design and functions, well-supported, and guided in Career Development Planning by our experienced Business Unit Managers.